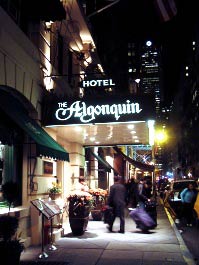 The Algonquin Hotel
Times Square, New York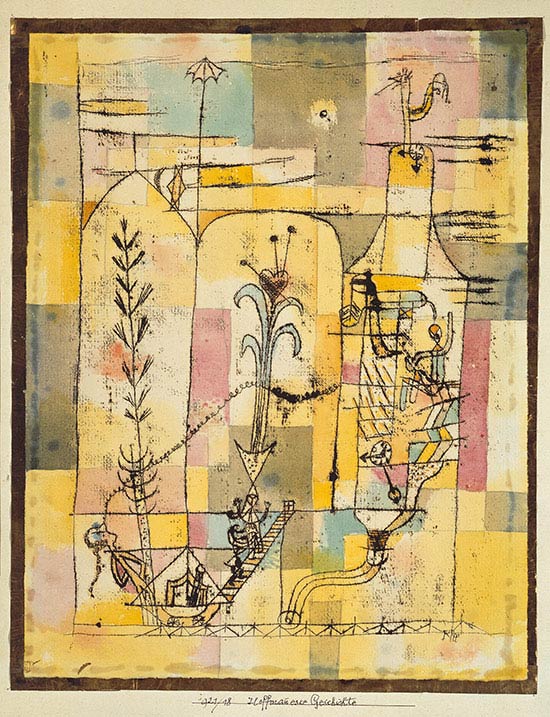 Tale á la Hoffman
Paul Klee, German 1879-1940
Watercolor, pencil and transferred printing ink on paper, 1921
Metropolitan Museum of Art
The Berggruen Klee Collection
Songwriting at the Algonquin
The night Kenneth Koch and I had dinner with Leonard
Cohen at the Algonquin, Leonard seemed less a famous
songwriter than a disconsolate figure from one of his songs—
having just lost, he told us, the great love of his life; all his
own fault. Kenneth had met Leonard before either was anybody
one legendary summer on the island of Hydra; Leonard still
with Marianne, Kenneth with Janice; whereas by the night at
the Algonquin, "So Long Marianne" was a classic; Kenneth
had written his magical second "Circus"—the first of his
poems to tie the paradise of writing to having and losing
Janice—and he and I lived up by Columbia together.
We felt so sorry for Leonard that the talk at dinner kept
circling back to love and loss, and as we philosophized and sympathized, traded stories and poured wine, the idea arose
that the three of us could compose the greatest love song of all
time. A joke, of course, except Leonard wasn't kidding. He'd
write the music and split three ways the credit and the money—
and what with him staying right there at the Algonquin
up we went to his room after dinner to nail down
the song. Leonard offered hints; I jotted something down,
but Kenneth who'd glimpsed the comic implications, started joking
around about our pending musical celebrity and got us laughing so
hilariously at the sagas we devised for the lovers in the song
that in parting that night, we left for another time the miraculous
lyrics that would lift the world's spirits—or break its heart.
In fact, decades went by and Kenneth had died before
I saw Leonard in person again—and then from a distant
row of an audience of eighteen thousand or so, at his late-life
concert at Barclays Center. Pretty crass venue; ads circling
and flashing, sound system blasting; I was about to walk out,
then—there he was—singing, miles away on the tiny stage, but
an almost apparitional officiant in the giant close-up monitor;
same grace and humor I remembered; at times, a supplicant
on his knees; the female backup singers like a plural
higher being, singing: If it be your will / to let me sing. . . .
Kenneth would have found the scene wonderfully
funny and intriguing, perhaps warranting ottava rima, as
the softest of hums filled the arena, everywhere and nowhere
like a high-tech trick—but no, the whole place was singing
along under its breath. Every heart / To love will come /
But like a refugee. The songs came and went on the spellbound
lips, as if bridging the rift central to the singer's surreptitious
metaphysics with the bit of infinitude that sifts back to us by dint
of it; the voice at once of the lovelorn divine and bereft exiles
fleeing, in hopes of finding, one another. Or so it seemed
as the crowd dispersed in the night rain outside
Barclays Center. At the time of our dinner, I sang
my kids to sleep at night with "That's No Way to Say
Goodbye," whereas Kenneth sang Italian opera as we made
the toast and coffee—Di quell'amor, quell'amor chè palpito /
Dell'universo, dell'universo intero— before heading to our desks
to resume the endless quest: Kenneth to the exuberant
tat tat of his Olivetti, x-ing out and re-emending the poem
he would read to me that evening. "To Marina," say, his
multi-temporal meditation on how what's over is never over
even as it's always forever gone: Is it snow, Marina, / Is it
snow or light? / Let's take a walk. The gist of many
a Cohen line—Did I ever leave you? / Was I ever able? /
Are we still leaning / Across the old table? The lemon and
almond trees blossom and wither in lyrics set on the island of
Hydra, addressed to the woman to whom he'd said, So long
in that first hit song—the one he'd write to just before she
died: I'm so close behind, your hand could reach mine.
Left unmentioned at dinner at the Algonquin that
evening, as we pondered the enigmas of love and loss,
was that things between Kenneth and me had already begun
to go wrong; we were ineluctably entering a Leonard
Cohen song. Not a song that he'd already written or would
someday write, but one that might have pierced
the mystery to its heart, had we written it that night.
The Manhattan Review
Fall/Winter 2019-2020